What is it?
A year-round awareness campaign encouraging the public to report suspected impaired drivers to 9-1-1 as a crime in progress.
Acts as a tool for public engagement, as an intervention strategy towards stopping impaired drivers, and an impaired driving deterrent.
Community organized initiative among Police, Public Health, EMS, Government, and Local Businesses.
Program components traditionally consist of Road Signs/Billboards, Program posters in restaurants/businesses, Newspaper advertisements, PSAs and "Smartphone wallets".
Approaches are tailored to individual communities and the surrounding area – such as Boating, ATV, Snowmobiling, and French Language.
History of the Program
The OPERATION LOOKOUT campaign began in 1992 by an organization named Against Drunk Driving and has been administered by arrive alive DRIVE SOBER since 2006.
Promotional Material Throughout the Years: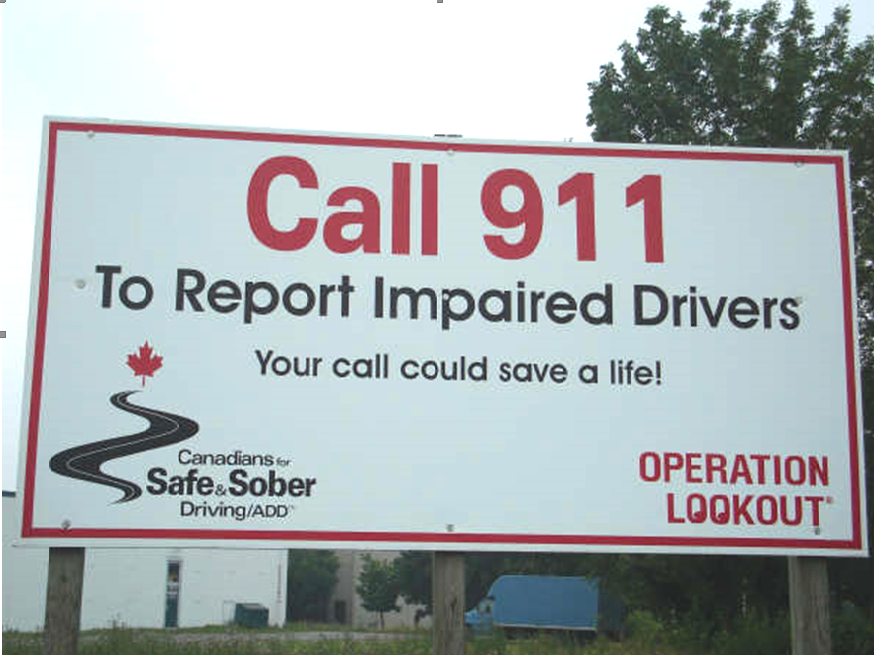 Road Sign and Advertisement Logo
Operation Lookout – Who's already running the program:
Community groups/agencies in Amherstburg, Bancroft, Belleville, Brockville, Bruce Peninsula, Chatham, Chapleau, Cornwall, Edmonton, Elgin County, Elliot Lake, Fredericton, Frontenac, Gananoque, Grenville, Grey County, Guelph, Haldimand, Hamilton, Hastings, Hawkesbury, Huron, Ingersoll, Kingston, Lambton, Lanark County, Lanark Highlands, Leeds, Lennox and Addington, Little Current/Manitoulin Island, London, Markstay, Napanee, Norfolk, Oshawa, Ottawa, Owen Sound, Peterborough, Port Hope, Prescott, Prince Edward County, Quinte West, St. Catharines, St. Thomas, Sharbot Lake, Smiths Falls, South Bruce, Stirling-Rawdon, Sudbury, Thunder Bay, Tillsonburg, Timmins, and Woodstock.
Is your community missing?
Contact us by email arrivealive@bellnet.ca or telephone (416-485-4411). To learn more and how your community can get involved.  
How do I get involved?
Operation Lookout is available as a program for any groups or agencies who are interested in running the initiative locally. Committees/groups are given materials to support the program along with a "resource and best practice guide". Groups who already run Operation Lookout have a great history with the program and can often offer advice on start up approaches, and insight into local issues or challenges.